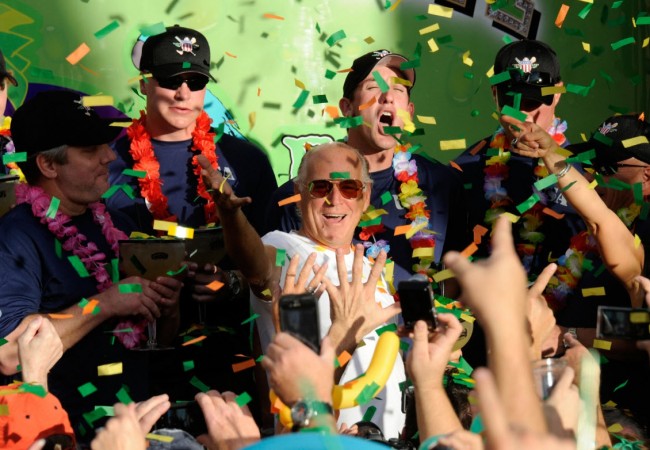 Hot 106 #11: Margaritaville
The Hot 106 is a list of 106 "classic rock" songs that should be banned from radio airplay forever. In an effort to be fair, and to flaunt their quasi musical snobbishness, Kent and Jen have tasked themselves with finding replacements for the overplayed tunes. 
What better song to ban forever than "Margaritaville"? (We're relieved that spell checker still doesn't recognize "Margaritaville" as a word.) 
Kent: T. Rex – "Chariot Choogle"
Crapping on Jimmy Buffett is almost cliche. To be sure, he deserves it for his pablum music and his drunk-mom-oriented rock vibe.
The basis on replacing "Margaritaville" should be on Buffett's secret history as a musical flip-flopper; his first album was called Down To Earth, and is was full of on-the-nose socially aware folk rock. One trip playing on the street corners of Key West later, and his second album was called A White Sports Coat and A Pink Crustacean and had Raffi-for-functioning-alcoholics tunes like "Why Don't We Get Drunk" and "Peanut Butter Conspiracy". Kudos for Buffett for quickly deciding to just be himself. We shouldn't have to hear about it, because in this case "being yourself" means "the musical equivalent of getting drunk at a Red Lobster".
So, who left the folk world for the classic rock world and also has some real merit and has an easy-going vibe and also doesn't get quite enough love on Classic Rock Radio? My play here has to be T. Rex; let's bring "Chariot Choogle" to the masses: it woozily never quite settles in but still rocks, the lyrics aren't too space-y or sexy as the more oft-played T. Rex tracks but still seem playful and the presence of Flo and Eddie singing background makes everything awesome.
Regardless of what you think of Jimmy Buffett's music, it is a bit hard to call it "rock". If your radio popped on as you started the car and "Margaritaville" was on, would you even know what station it was tuned to? No such confusion for "Chariot Choogle".
Jen: The Small Faces – "Song of a Baker"
Fun fact about Jen! I briefly dated a guy in high school who tried to convince me that Jimmy Buffett was some kind of misunderstood sage. I, being a seventeen-year-old girl, had no idea that the man put out any music that wasn't corny as hell. Naturally, then, I thought this suitor was gaslighting me. Jimmy Buffett was "Margaritaville", obnoxious Baby Boomers wearing Tommy Bahama year-round, and that piña colada song. That was him too, right?
Awful truth about Jen! Jimmy Buffett exposes my musical bigotry. Love of his music/lifestyle is a deal-breaker for me. In fact, if I think about the idea that being a Parrothead is a "lifestyle choice", I cringe so intensely that I wind up looking like one of those wizened-old-lady faces made out of dried fruit.
I know, I know–music is a subjective experience, I should live and let live.
No. NO! I'm going to fly in the face of Kent's eloquent take-down of Buffett because I have no shame; I'm a Jimmy Buffett bigot, remember? If you look at me with a straight face and tell me you love Jimmy Buffett, I'll mentally file you away in the area of my brain that makes note of Glenn Beck acolytes, people who believe that the WWE is real, and those who don't know/don't care that "should of" is incorrect.
But soft…
…allow me to ascend this musical morass with a tune that deserves airtime in place of this (objectively) over-played abomination.
Steve Marriott and Ronnie Lane elevate this legit rocker from their extremely British concept album, Ogden's Nut Gone Flake. "Song of a Baker" reminds you that The Small Faces were once a hard-edged R&B band, but left it all behind in favor of a uniquely British re-purposing of rock and roll. In fact, Ogden's is so British that most of it sounds like a musical mash-up of Jabberwocky and The Goon Show. (You can hear bits of Ogden's in this clip if you want to know what I'm talking about.) And yet it still manages to rock.
"Baker" is their legacy of the break from the familiar into the experimental. It's got this kind of start-and-stop thing going on with its rhythm. The words are ridiculous. There's no great guitar solo. But it makes you want to pound along on the steering wheel in your car, doesn't it? I think that should be one of the points of "Classic Rock" radio.
Note: To avoid feelings of inadequacy, or superiority, please ignore the fact that none of these guys were over the age of 21 when this song was released.