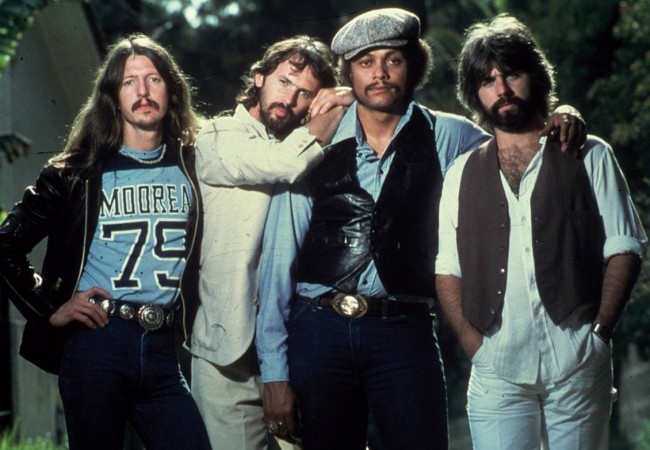 The Hot 106 is a hit list (like a mob hit) of 106 "classic rock" songs that deserve to be banned from radio airplay forever, due to being overplayed or just plain played out. In an effort to be fair, and to showcase great, lesser-known "deep cuts", Kent and Jen have tasked themselves with finding replacements for these banished tunes.
Gettin' whacked today in a Yacht Rock showdown: "China Grove" by The Doobie Brothers. 
Kent: "Clear As The Driven Snow"
There is nothing really wrong with "China Grove", and it really is more indicative of The Doobie Brothers' music offerings to the world of classic rock than my replacement.
But the dirty little secret of The Doobie Brothers, forever curb stomped by the salt-and-pepper smooth rockin' of Michael McDonald, is that their earlier albums offer music that sounds more like Crosby, Stills, and Nash than Yacht Rock, and that's the musical history a Classic-Rock-Radio revisionist should bestow upon the brothers Doobie.
"Closer Every Day" or "White Sun" are some of my favorites, but you needn't even leave the same album that "China Grove" appears on, The Captain and Me, to find a suitable replacement: my pick is "Clear As The Driven Snow". It has great harmonies and multiple facets, has an acoustic focus punctuated by driving bass and sinister guitar licks, and keeps McDonald on the farm.
Nothing against "China Grove", really, but if I had heard more of Doobie tunes like "Clear As The Driven Snow" and less of the offerings given out on the radio, I would have been a fan sooner.
Jen: "Wishing You Were Here" by Chicago
Given my predilection for all-that-lovely-hippie-shit music, I bet I'd have a vintage Doobie Brothers tee shirt or two by now if I, too, had grown up with songs like the John-Denver-cum-Stephen-Stills "Clear As The Driven Snow."
But "China Grove" and "Jesus Is Just Alright" and "What a Fool Believes" did much to make me turn a "blah" eye to the band. They're not bad, but they're just not all that great either. (Full disclosure: I actually like* Michael McDonald, despite his Lindsay-Buckingham-and-Stevie-Nicks effect on the Doobies' sound.)
In my mind, the Doobie Brothers were always just a few shades more legit than Captain and Tenille, and they made music that found itself on AOR back when people were taking too many drugs to notice/care just how unremarkable it really was. (I like to imagine that the people taking the really good stuff were too blissed out on Close to the Edge to care.)
And then, somehow, the Doobie Brothers became what white suburban moms listened to in the '90s when they wanted to appear "cool". (Full disclosure #2: Including my mom.)
Now that my (seemingly contradictory) affection for Michael McDonald and my feelings of "meh" about the Doobies are out in the open, I should mention that I considered picking a substitute  song that was quite a bit different than "China Grove". But I feel like I've been doing that too readily with bands whose catalogs I'm not familiar with. Instead, then, I'm going to stick to the soon-to-be-yacht-rock theme and pick a favorite from Chicago VII: "Wishing You Were Here".
You can tell Peter Cetera's on the brink of ruining the band (that goddamn bridge, PETER CETERA), but the Beach Boys' vocals and Terry Kath's dirge-like melody make this a compelling, almost unsettling tune for the ever-mellowing '70s. Make no mistake–this is a full-on "adult contemporary" song, but only because there's no other way to categorize it. It's a ballad from a band who still had the balls to put mostly weird jazz instrumentals on the entire first record of the double album it was on. That has to count for something. Right?
*I don't care what you think.