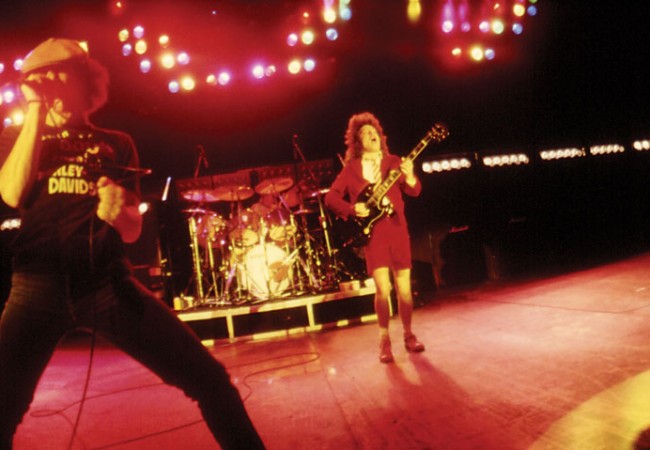 Hot 106 #6: Back in Black
The Hot 106 is a musical hit list of 106 "classic rock" songs that should be banned from radio airplay forever. In an effort to be fair, and to flaunt their quasi-musical quasi-snobbiness, Kent and Jen have tasked themselves with finding replacements for the overplayed tunes.  Today's installment: "Back in Black" by AC/DC.
Much to the chagrin of sports teams everywhere and anyone else pretending to be tough, "Back in Black" is history… man.
Kent: "Walk All Over You"
Yes, I am a fanboy.  Yes, I have previously put, in print, a love letter about this song.  Yes, I, too, have rock-and-roll-type fantasies about being in the bang (oooh!) with a gang.
However, if I get to take electronic pen to paper and do my classic rock radio revisionist duties, Brian Johnson era AC/DC can't make the list.  Please replace "Back In Black" with "Walk All Over You".
Don't think about it as poo-pooing Johnson, but celebrating Bon Scott.  Johnson took an impossible job on balls first, but his gruff and tough impish image did little to compliment the duo of singer/lead guitarist that the band had developed.  Angus is the imp, Chuck Berrying around in a schoolboy's uniform, making stubby little devil horns with his blues-possessed fingers, contorting his face and huffing for air to fuel his rock trance, Kussmaul style.
Bon Scott?  A three-quarter turgid Pan in ill-fitting jeans.  Musky, damp, cooing and begging sex.  A prefect combo between the two styles.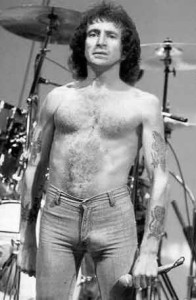 Musically the band was already headed toward the Back In Black sound; Highway To Hell, the album prior to Black and Black and featuring "Walk All Over You", was  the first to be produced by Mutt Lange, who made a signature sound that fans kept on loving after Bon Scott's death at the age of 33 (just like You Know Who).
I know this video is poorly synced.  It won't keep you from getting rocked to pieces.  Don't choke on it.
Jen: "Cold Stone" – The Pretty Things
AC/DC is an interesting study in music for me. I should LOVE them. Loud, power-chording guitars? Check. Epic live performances? Check. Frontman with (visible) balls of steel? Double check.
But I don't like AC/DC. At all. I hear the opening bit to "You Shook Me All Night Long" and I start itching like a crack addict.
Don't get me wrong! I want to like AC/DC and, given all the other bands I love — like The Who, Led Zeppelin and Humble Pie — I should like them. But I just don't. I don't, and I can't help it, and I don't really know why I feel this way! On paper, it makes no sense!
For whatever reason, when it comes to AC/DC, I'm like a homer scab ref at a Pats game–the calls are alllll going against the Jets.
And so AC/DC just ain't gonna get any lovin' from this gal. I can't help it. I'm a rock and roll homer, but I'm not sure just who I'm a homer for, exactly. AC/DC are as rock as you get, and I get that. "Back in Black" is the kind of to-the-point tune that could roll out on an assembly line, sturdy and ready-to-rock. But… eh.
Since "Back in Black" is over four minutes long (I know! I couldn't believe it either!), I feel it's okay to pick this 3-minute bit of exquisite proto-metal from the same dudes who thought up the rock opera, The Pretty Things.
This lost gem from 1970 has everything that "Back in Black" doesn't give me, which is to say I just like it better. The rhythm guitar sounds like it's being fed through a steel mill; the lead guitar makes the best use of the wah pedal this side of Jimi Hendrix. Who cares what the singer is on about most of the time? The chorus is: "This world is just cold stone," and that's all you need to know.